Finding a takeover target is one of the most difficult games to play on Wall Street.
You've got to think about each company's strategy, who's willing to be acquired… 
And then evaluate if the stock's trading at a good discount to get in.
If you can find one of those plays, then the profits come rolling in — and QUICK.
It's also one of the best ways people get themselves thrown in jail for insider trading.
The first example I remember watching in real-time was when a guy named Reza Saleh bought a truckload of call options on his IT company "Perot Systems"...
Which was then bought by Dell for about $3.9 billion in late 2009.

Yes, Perot as in Ross Perot. Ross Perot a few other wealthy investors founded Perot Systems back in 1988, and it provided services in healthcare, government, banking, and several other industries.
The company saw massive success over the next 2 decades, eventually leading to the Dell acquisition.
As for the employee, he made $8.6 million on the trade…
But it wasn't worth it because the SEC charged him with insider trading.
Saleh gave in and agreed to give back his $8.6 million to avoid a fine and potential prison time. Add in the stress and cost of litigation, and this is definitely a net loss on his part.
Moral of the story: it seems you can do two things:
Become a deep-dive researcher and attempt to compete with all the Wall Street firms on information arbitrage, or:

Cheat.
Fortunately, there's a third way, and it does circle back to the insider.
Insider trading is illegal... when you don't disclose it to the SEC. Reza Saleh didn't disclose his trades, and that's why he got smacked by the SEC.
But if you do disclose those trades properly, it's 100% legal and transparent.
That's where we Main Street traders find our edge. 
We identify key insiders who are searching for massive upside in the companies they belong to.
Take an insider like John Watters — the President and COO of a company called Mandiant (MNDT), recently rebranded from FireEye.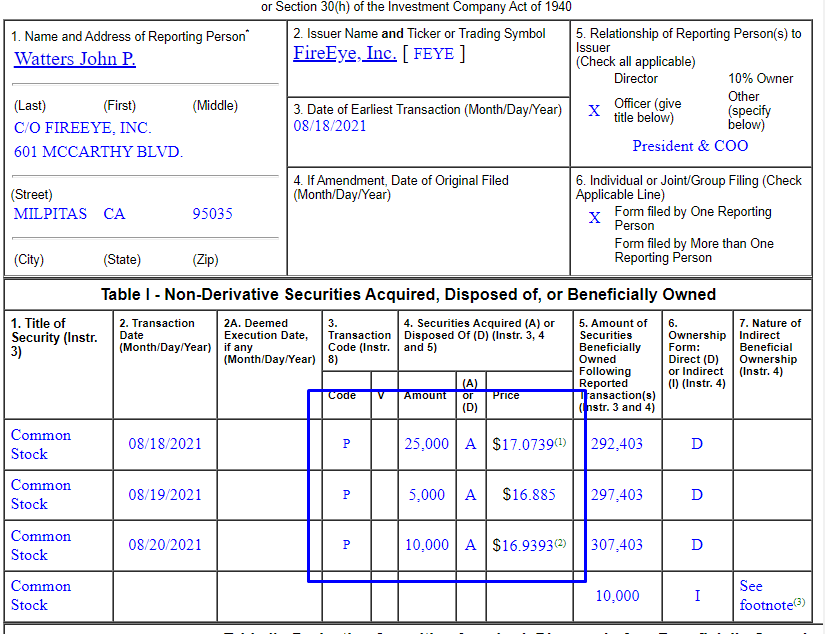 Throughout Fall 2021, he consistently bought his stock on the dips…
And on March 8, Alphabet (GOOGL) announced it was acquiring MNDT.

Did Mr. Watters know for certain that the deal was going to happen? We can't know for sure… but there were some signs. 
Last June, the company spun off its FireEye Products division to create a leaner company. My guess is they did this to focus on selling the core of their company — and that's what happened.
Our clients at Insiders Exposed were able to bank a quick 26% on the company… 
Simply because we knew what the insiders were doing, and that gave us a strong edge in the company.
If you want to learn how we find all of these insider traders, check out this presentation.
One other note: Insiders buy and sell their stock every day across tons of companies. Not all of them show the same conviction as Mr. Watters's trades.
Don't worry: my insider trading presentation covers 6 high-conviction insider trade setups to look for — helping you maximize your profits.