My watchlist's largest move today was Twitter (TWTR), which is up over 25%.
Was there any news? Any material changes to the company?
Well, one thing you'll find interesting…
Everyone's favorite billionaire serial entrepreneur — Elon Musk — just became Twitter's largest shareholder.
Here's some background:
On March 25th, Musk put out a Twitter poll about, well, Twitter.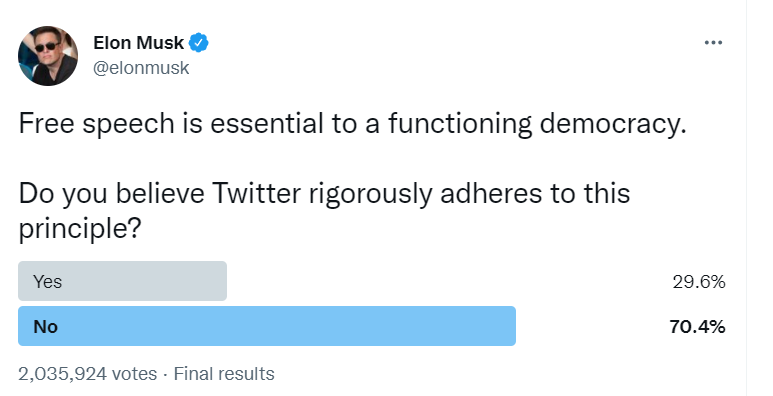 With free speech being quite a controversial topic (who would've thought), about 2 million people chimed in.
As you can see, 70% of them essentially believe Twitter's "free speech" model is broken.
Easy to see why:
We've heard about this tech crackdown for years now.
The censorship we see at Facebook, Twitter, and Youtube all seems to run one way…
Towards a specific set of political views not shared by a good chunk of their respective user bases.
And the hilarious thing is, if you complained or pointed it out, you'd always hear, "it's a free market, bro!"
Yes, we're mostly a free market economy. That much is true.
But we're now seeing the other side of the coin — those same schmucks complaining about how a billionaire shouldn't be able to affect changes in the "Approved Narrative" in this country.
(They all seem to forget that Jeff Bezos owns the Washington Post.)
Regardless:
After that poll, we saw a serious Twitter buy from our favorite CEO and serial entrepreneur.
Mr. Musk picked up 73MM shares, a nearly $3b capital outlay.
The reason here seems obvious enough. He most likely wants to leverage his power as a shareholder to improve the state of free speech on Twitter, which he sees as the de facto public square.
But putting the free speech issue aside for a second, this gives him a 9.2% stake in the company.
Weird number to land on, right? Why not round up to an clean 10%?
Let me tell you why:
Hidden in securities law is a clause that makes staying under that 10% threshold a VERY good idea.
Here it is, straight from the SEC:
"The federal securities laws require certain individuals (such as officers, directors, and those that hold more than 10% of any class of a company's securities, together we'll call, 'insiders') to report purchases, sales, and holdings of their company's securities by filing Forms 3, 4, and 5."
That's right.
If you own more than 10% of a company's stock, you put yourself in the SEC's crosshairs.
Any purchases would require you to fill out a "Form 4," part of which makes you submit an investment plan.
Many folks, Musk included, aren't huge fans of disclosing that amount to the SEC.
But circling back to the issue of free speech — if Musk wants to affect change at Twitter, scooping up more shares would only increase his power at the company.
So if he does go over that 10% threshold, we might start seeing him in the insider trading setups we actively track at Insiders Exposed.
Oh, about that: Form 4's become public information once filed.
That's how we'd see Mr. Musk's trades if became a 10% shareholder.
And as the SEC mentioned, officers and directors always have to report their trades in the same way. So purchases and sales of their own stock are also publicly available…
Starting to see where this is going?
If you want to learn how to find these types of insider trades: