The markets have been a trainwreck this entire year, but volatility has started to pick up significantly.
Here's a chart of the Nasdaq 100 with the 20-day volatility visible, now sitting at 40%: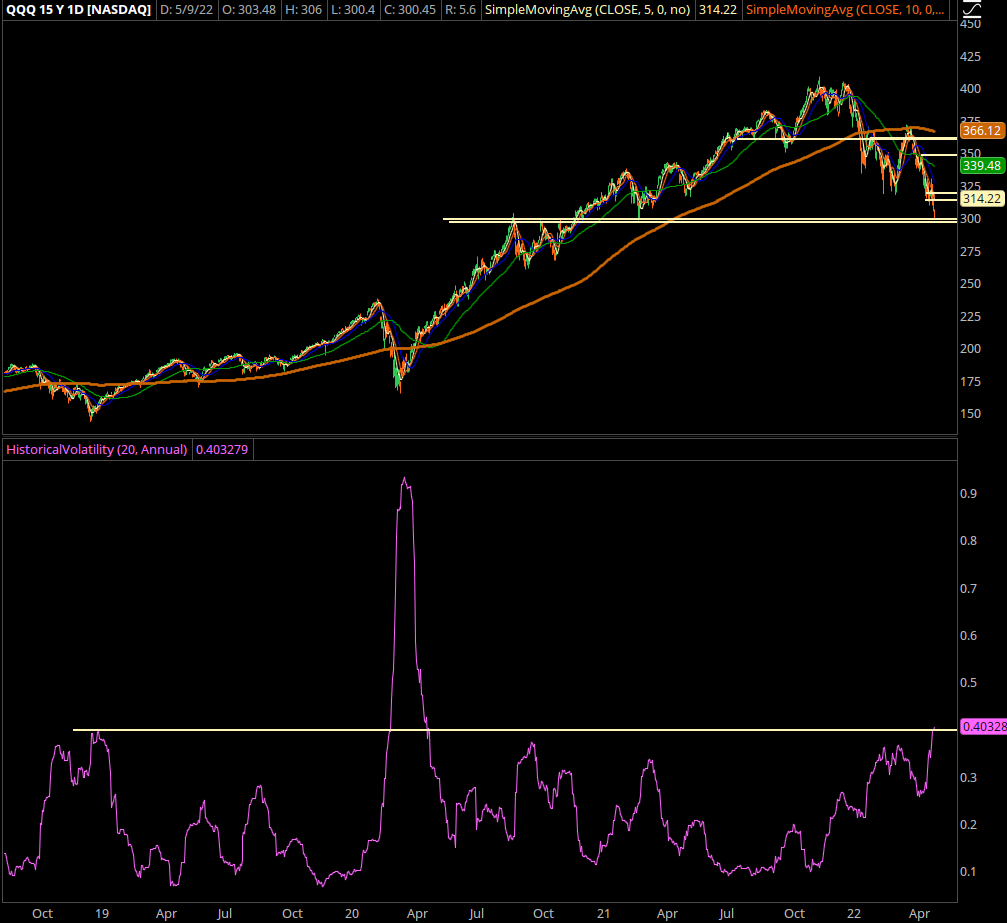 On top of that, we're in the midst of a nasty bear market in bonds, with rates skyrocketing higher.
It can be tough for a business to plan around this kind of volatility.
However, there's one industry that becomes lucrative during times like this…
And to illustrate, let me tell you the classic business parable of the "shovel salesman."
Back during the California gold rush of the 1800s, a ton of folks scrambled to California to try their luck at striking gold.
A few walked away rich. Many walked away empty-handed and out the time and money involved in prospecting for gold.
However, the smart people knew the real money was to sell the pans, pickaxes, and shovels to the prospectors.
Sure, you might strike it rich finding some gold. Like I said, a few did. But that's highly risky relative to the reward.
You'd have a more stable business model if you opened up a hotel where the prospectors lived. Or sold them the tools.
You might even come away richer than the lucky few who struck gold, but with far less risk.
The same thing happens in the markets when volatility is running hot.
You could try to play the market itself when there's a lot of volatility… or you could go after the stocks that make playing the market possible.
I'm talking about the exchanges and brokerages — all the trading activity in volatile markets causes these firms to see a lot more flows.
One brokerage's CEO seems to agree and looks to be expecting a serious turnaround…
Because he put nearly $10 million of his own capital into his company during this most recent dip.
Now, some of these whales have more money than good sense. Sometimes, their buys are a small portion of what they already own.
Not for this man. His most recent insider investment represents a 40% increase in his holdings.
Clearly, he is a fan of the stock at this price level and believes it has some serious upside potential.
So we're going to use his big bet as a way to "follow along" in our Insiders Exposed service.
Join Insiders Exposed today, and you'll have access to this ticker and the rest of our portfolio. Plus, every future alert like this one.
>>>Just watch this free webinar on legal insider trading to learn more.